Post by Vonpotter on Apr 28, 2014 14:28:04 GMT -5
Let's start with a little backstory first.
The Mickelson Trail was originally the Burlington Northern line that took trains from Edgemont, SD to the northern Black Hills and the gold mines of Deadwood area. The trail transverses the beautiful Black Hills of South Dakota. The track built originally in 9 months and 22 days, was abandoned in 1983. A group of outdoor enthusiasts recognized the trails potential, and with support of the then Governor Mickelson, it became the states' first rails to trails project.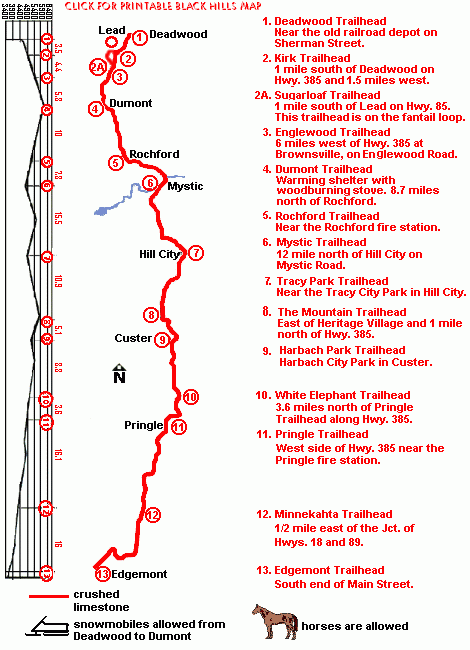 The trail is roughly 110 miles one way, through the Black Hills of South Dakota, and roughly an hour from where I grew up. Kranzor and I have been talking about doing this ride for almost 5 years now, but something always seems to spoil it. This year, so far nothing has ruined our plan.
More info on the trail
We will be leaving from Vonpotter Labs bright and early Wednesday morning. Its about 400 miles from my place to the trailhead, and while riding that distance would be kinda cool, I'd rather just drive it. So we'll load up our bikes, gear, and most importantly, ourselves and drive for 6 hours
Upon arrival, we'll park at a high school friend's Grandmother's house, and ride to the trailhead. This trip will be entirely self-sustained, with no car to carry our gear or get us out of there if anything goes wrong. If it doesn't fit on the bike, it doesn't come with. Needless to say, strategic packing and bag placement is crucial to what comes with. There are towns along the trail, but my personal goal is to avoid spending a ton of cash, and thus I will be trying to provide my own food, water, shelter, etc
We will spend at least one night on the trail, possibly more. If we finish early, I grew up in the area and know a few other trail networks we can hit as well, one of which is literally in my parent's backyard. Regardless we are looking at a 5-day, 4-night trip all on our own. We both have small backpacking tents, sleeping bags, and bedrolls. I'll be fixing most of the meal food, which will mostly consist of dried bacon, jerky, instant rice, instant potatoes, dried fruit and veggies, and instant oatmeal. I made a little backpacker's stove out of an energy drink can that works incredibly.
Last year, we did a trial ride to see if our gear would work/if we could do it ourselves. that can be found
here
.
From wednesday May 28th to June 1st, we will be MIA